The next step for the childhood BFFs: to restore the 19th-century house   
In a remote neighborhood in Cavite City, in the vicinity of the over 300-year-old San Roque Parish Church, one might be surprised to find a quaint little café housed in a 19th century ancestral home.
The "worn-out wooden house," as blogger Pinay Arkitek describes it in a Facebook post, looks like it had seen the best and worst of times. Think tattered metal roof and capiz windows with holes on them. The house, the architect so astutely observed, "seemed ready to give up."
---
---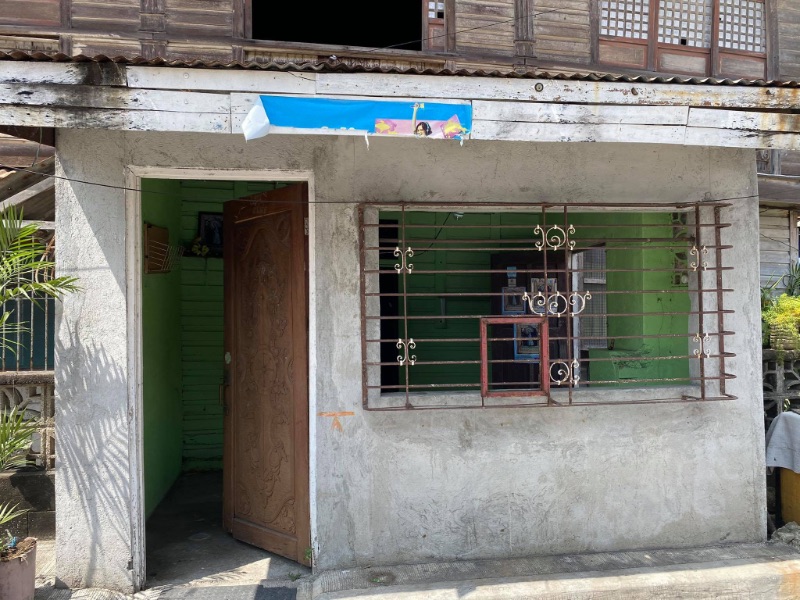 The structure is owned by the family of Ivan Reyes, who grew up and still lives in this home with his family. "May pamahiin kasi ang mga purong Caviteño, mga Chavacano, na bawal galawin ang bahay. Pwede i-restore pero hindi para palitan," Ivan tells ANCX. But there's no budget to do the restoration as of yet, he says, so it's the only remaining untouched ancestral house in the area.
Just about recently, however, he and his barista friend Darlon Castor, decided to refurbish the lower part of the house—which used to be a sari-sari store—and turn it into a hip café. The exterior is painted white, furnished with an antique door and wooden countertop, describes Pinay Arkitek, who has visited the place and tried the cafe's offerings.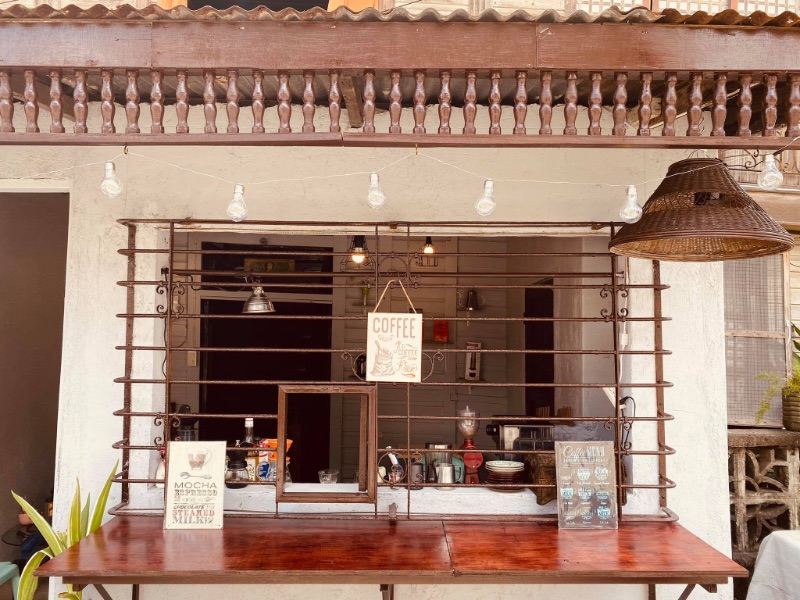 The house's upper half still looks the same, but with the sari-sari store gone and the first floor given new life and use, the entire structure now lends Cajigas Street in Cavite City a hint of old world Vigan vibe, especially during the evenings, says Ivan.
Raising the bar
Business partners and childhood friends, Darlon and Ivan, opened the café only in early April. Darlon used to work as a waiter and barista but he lost his job due to the pandemic. Having been able to buy some coffee equipment and tools during the lockdown, he started selling bottled coffee online and called it Monster Brew. Seeing that there seems to be some kind of future in his coffee biz, the Imuseño started looking for a location to put up a café.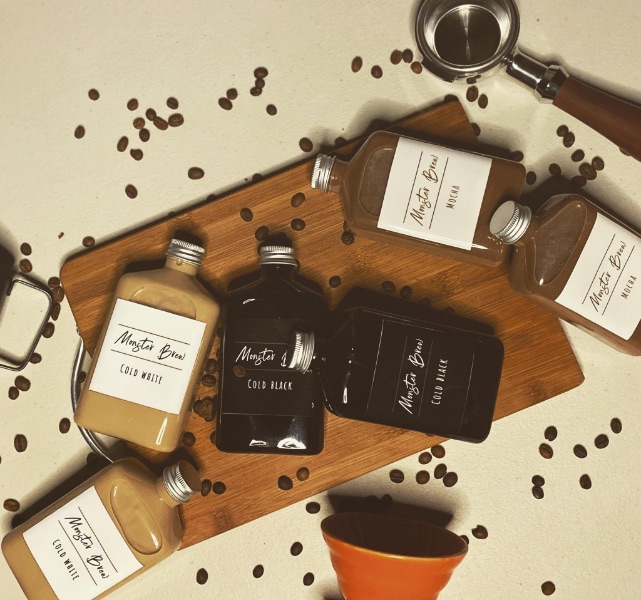 "Nag-ikot ako around Cavite City, wala akong makitang [lugar na pwede]," Darlon recalls. Then in a surprising turn of events, he got a message from his long-time friend Ivan sometime in January inviting him to visit and have merienda at his palamigan.
Ivan, a passenger ship crewman, had a different plan earlier on: he was going to work in an international shipping line. But this got derailed due to the pandemic. So while scrambling for something to do, he decided to sell Mais and Saging con Yelo for a little extra money.
Over iced banana slices, Darlon told Ivan he was looking for a place to put up a café. And right there and then they decided Darlon needn't look far for the perfect spot: the vacant old sari-sari store!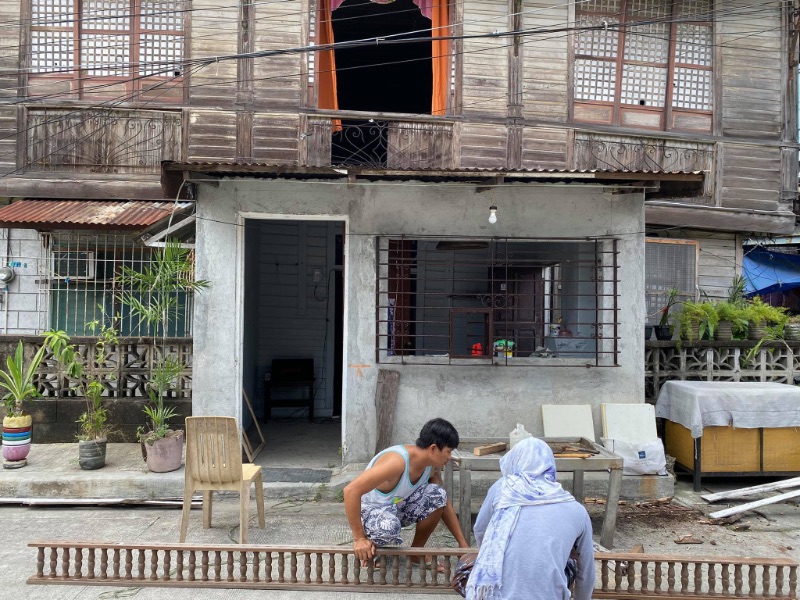 With Darlon's barista training and coffee tools on hand, Ivan's experience working in the kitchen of a passenger ship, and a nice location to boot, the two decided to give the business a go. They decided to call the place Kasa Antigua, which in Chavacano literally means "old or antique house," says Ivan.
Soon, they were fixing up the space. They used recycled old wood—they got a bar table from a junk shop—added lights to spruce up the place, and painted the place anew. "Two weeks straight namin inayos ang shop," Ivan shares, pleased with the results. "Kami lang nagpinta. Para lang kaming naglalaro," Darlon adds.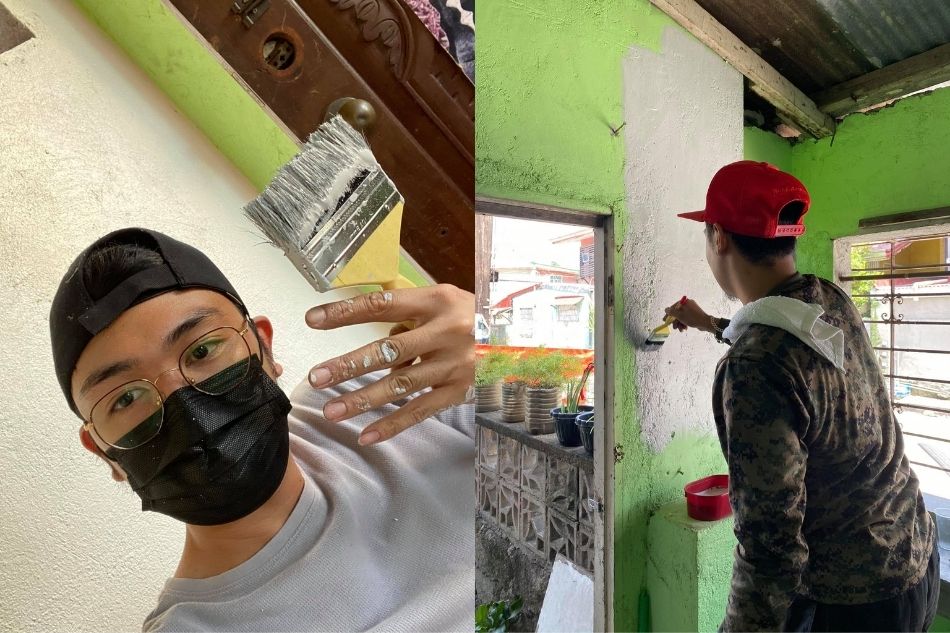 The café offers hot and cold drinks (e.g. iced coffee, flavored coffee, latte, cappuccino, flat white, Americano) and snacks like grilled sandwiches, French toast, and salad. They decided to keep their prices friendly—nothing beyond P100.
Pinay Arkitek is apparently one of their satisfied customers, hence the social media shoutout that made the rounds of Facebook feeds. "The French toast flavored with cinnamon and topped with banana is one of the best I've had," she shares.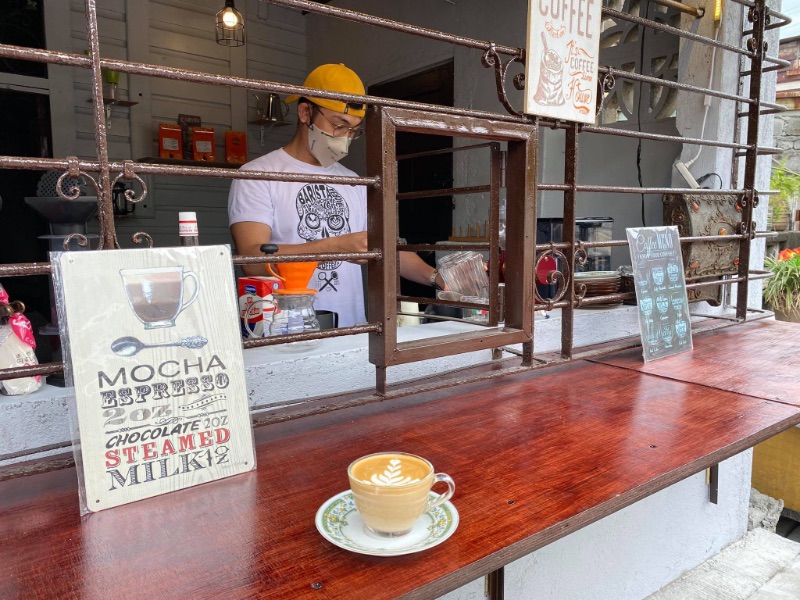 Darlon and Ivan did not expect the café to get such a warm reception from the Cavite community. "Nakaka-100 cups of coffee na kami in a day," shares Darlon. "Marami ang returning customers."
Some folks go to Cajigas St. to buy the Kasa Antigua brew, but the cafe also has a rider who can deliver orders.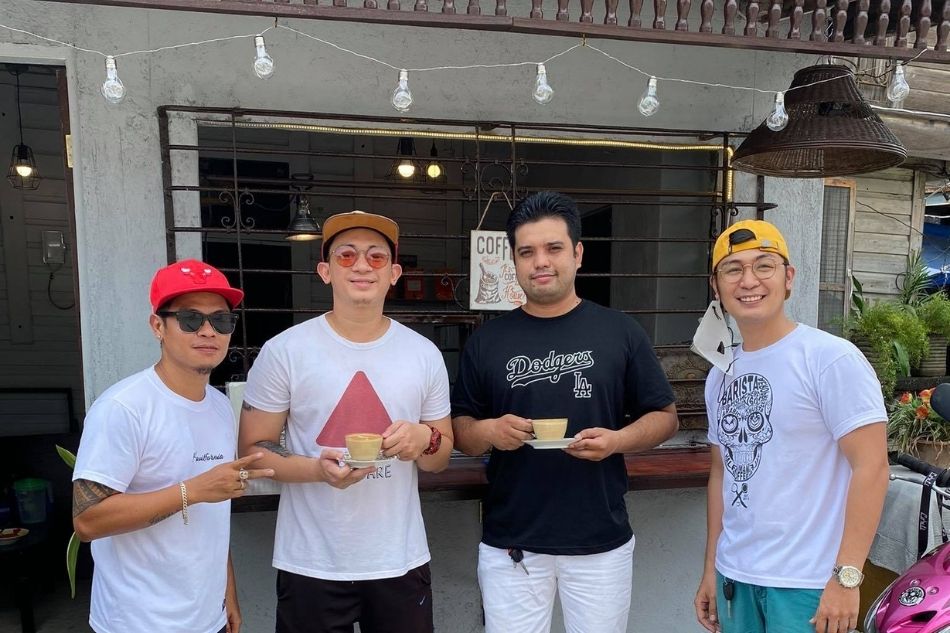 Best buds
Darlon and Ivan, both 30, have been friends since grade school. They spent their teenage years dancing (they used to join dance contests together) and they were both in an alternative rock band called Overdose. "Siga-siga ito noon, parating naga-guidance office," shares Darlon of Ivan. "Siya, good boy," Ivan says of his friend.
After high school, they decided to take different career paths. Darlon took up BS Hotel and Restaurant Management for a couple of years (financial woes stopped him from getting a degree) and Ivan finished a Basic Seaman Training Course.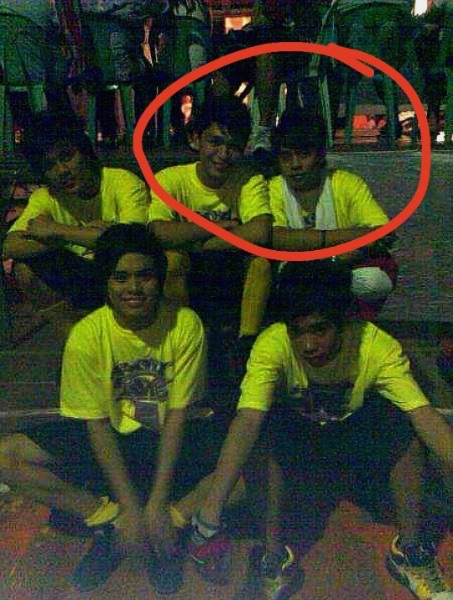 Through the years, both developed a passion for food. Darlon learned how to cook and bake from his mother; Ivan got his tricks in the kitchen from his father. It was while working for a restaurant that Darlon learned about coffee and got inspired to learn more about the ways of the brew. He would even join latte art making competitions to improve his skills.
"Madami na akong nasalihan pero di ako pinalad eh, pero dahil sa passion ko sya, ang ginagawa ko sali pa din ako ng sali," he says. Now that they have a café, he wants to teach their customers about coffee and its origins. "May galing Davao, Bukidnon, Atok Benguet, Sultan Kudarat. Ginagawa ko yun to also help our coffee farmers."
The two are not in a hurry to make their business grow. "Dahan-dahan muna," says Darlon. Although this early, they are starting to build bigger dreams, which includes restoring the old house. "Plano namin na gawing café yung buong bahay, pati yung itaas," shares Ivan.
---
---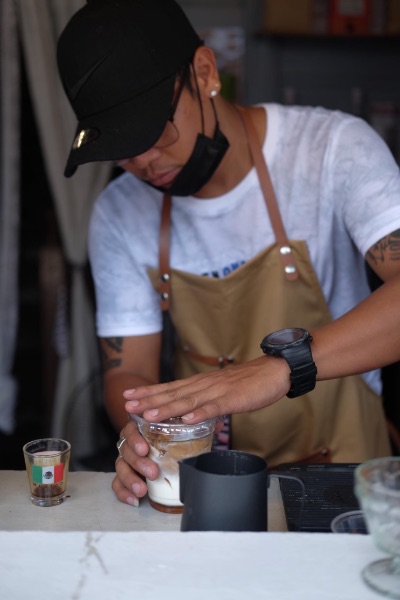 People who who have visited the house admire its architecture. It's also a perfect place for people who just want to relax and chill. "Pag namintana ka, presko kasi malakas ang hangin sa hapon, nakakaantok, masarap magkape," Ivan shares.
A bigger, better looking Kasa Antigua would be something Caviteños can look forward to in the near future. For now, try their brews and snacks so the boys can save up to restore the structure that houses their little cafe.
---
Article and Photo originally posted by AB-CBN News last April 14, 2021 and written by Rhia Grana.