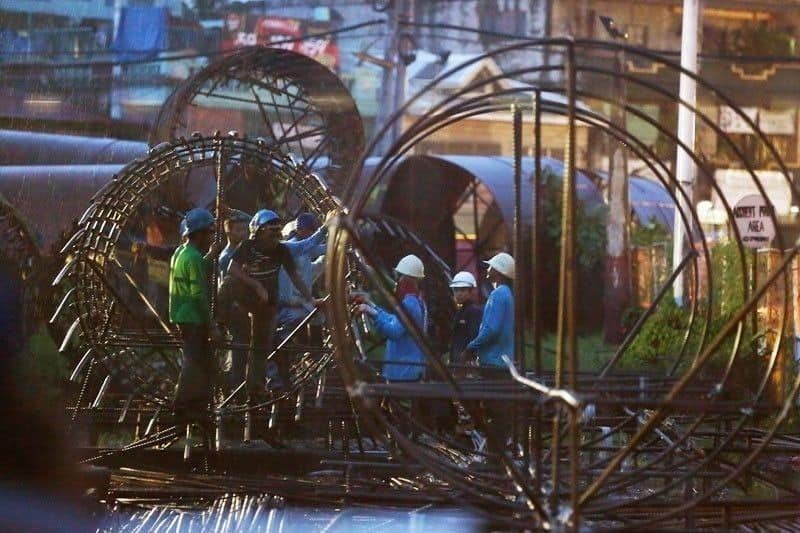 MANILA, Philippines — Government spending on infrastructure declined by 22 percent from January to November last year as mobility restrictions continued to delay construction activities, prompting agencies to discontinue some of their projects.
According to the latest data from the Department of Budget and Management (DBM), infrastructure and other capital outlays amounted to P548.8 from January to November 2020, 22 percent lower than the previous year's P703.8 billion.
This happened as infrastructure spending declined for the fifth consecutive month in November last year, hitting only P40.3 billion, which is about half of the P80.9 billion reported in the same month in 2019.
---
---
The DBM attributed the drop in infrastructure spending to the delays in construction activities brought about by the community quarantine measures.
Some projects, the DBM said, were also discontinued as they could no longer be implemented or completed within 2020.
"Infrastructure and other capital outlays were lower year-on-year mainly due to the delays encountered in the implementation of public works during the imposition of COVID-19 community quarantine measures, and the discontinuance or deferment of some capital outlay projects which can no longer be implemented nor completed because of the pandemic," the DBM said.
Nicholas Mapa, senior economist at ING Bank, said the contraction was to be expected.
"We had expected spending numbers to contract to close out 2020 with authorities purposely reining in spending to protect fiscal targets. Meanwhile, the high base set from the substantial pickup in spending in the fourth quarter of 2019 also meant that a severe contraction was to be expected," Mapa said.
"What is more alarming is the month-on-month decline for November and we hope there is a reversal at least for December with the economy in dire need of some boost," he said.
Including equities and capital transfer to local government units, total capital outlays in the first 11 months of 2020 reached P727.9 billion, 14 percent lower than P846 billion in the same period in 2019.
For December, alone, total capital outlays contracted by 31 percent to P64.6 billion from P93.7 billion in the previous year.
Despite the decline in infrastructure expenditures, the DBM said spending for COVID-19 response, as well as the release of the annual block grant to the Bangsamoro Autonomous Region in Muslim Mindanao, pushed up overall disbursements by 11.6 percent to P3.69 trillion in the first 11 months of 2020 from P3.3 trillion in 2019.
---
---
The DBM said spending for December was expected to quicken compared to earlier months as line agencies fast tracked the implementation of programs and projects and settled outstanding payables ahead of the closing of books by the year-end.
Big-spending departments, particularly the Department of Public Works and Highways (DPWH), and concerned departments implementing COVID-19 recovery measures had also committed to implement catch-up plans.
This, the DBM said, would accelerate disbursements and help the government meet its revised target of P4.23 trillion, as set by the Development Budget Coordination Committee (DBCC) last December.
#realestateblogph | #realestateblogphpropertynews | #REBPH | #realestate | #infrastructure | #governmentspending
---
Article and Photo originally posted by Philippine Star last January 20, 2021 12;00am and written by Mary Grace Padin.