The Department of Public Works and Highways (DPWH) on Friday said the two-way, one-lane viaduct project at Lawton Avenue, Makati City going directly to Bonifacio Global City's (BGC) 8th Avenue in Taguig City is eyed to be accessible to the motoring public beginning October 1, 2021.
"We're excited that the Lawton Avenue to Global City viaduct section of the BGC-Ortigas Center Road Link Project will potentially be delivered to completion this September 30," said DPWH Secretary Mark Villar.advertisement
---
---
The completion of the said portion of the BGC-Ortigas Center Road Link Project comes three months after the Public Works department opened a portion connecting Pasig and Mandaluyong cities to Kalayaan Avenue in Makati City via the Sta. Monica-Lawton Bridge on June 12 this year.
With this, Villar said, "Only a few more days, we are closer to our goal of cutting travel time between Bonifacio Global City and Ortigas Center to only 12 minutes."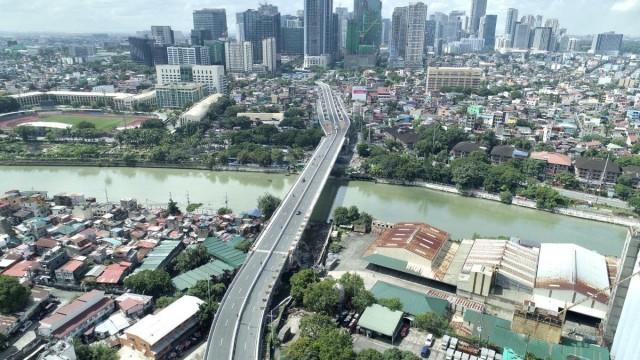 Also, the DPWH said that based on an inspection report by Undersecretary for Unified Project Management Office (UPMO) Operations Emil Sadain, the approach 3 at 8th Avenue has been concrete-paved with parapet wall on both sides, following the accelerated construction works by joint venture contractor Persan Construction Inc. and Sino Road and Bridge Group Co. Ltd. "just in time for the planned inauguration this end of of the month."
With the substantial completion of the median barrier, asphalt overlay of the viaduct ramp is anticipated by this weekend to be followed by the pavement marking and light post installation, according to Sadain.
The 565-meter Lawton Avenue-Global City Viaduct is an important connection of the already accessible Kalayaan Bridge formerly known as Sta. Monica-Lawton Bridge linking Pasig City and Makati City across Pasig River, the DPWH said.
The viaduct and Kalayaan Bridge form part of the entire 1.481-kilometer alignment of the P1.79-billion BGC-Ortigas Center Road Link Project.
---
---
Construction of BGC to Ortigas Center Road Link Project also covers the much needed optimal improvement for the 362-meter Brixton Street (corner Reliance Street) to Fairlane Street at Pasig/Mandaluyong side to cater the increased number of road users.
The BGC-Ortigas Center Link Road Project is one of the major Build, Build, Build undertaking supportive of EDSA Decongestion Program which aims to improve the traffic situation on the historic highway, and other major thoroughfares in Metro Manila.
---
Article and Photo originally posted by GMA Network last September 24, 2021 12:17pm and written by Ted Cordero.