Things have drastically changed in the office.
With social distancing rules now in the equation, the days when office buildings were brimming with people are over. Businesses have put in place hybrid work setups—some employees are working from home or elsewhere.
The ever-changing times we live in brings the need for more resilient work setups, and this is something that flexible workspaces can offer.
---
---
"With the concept of 'blended' work arrangement expected to be more prevalent, companies should definitely consider flexible workspace options," said Tetet Castro, director and head of tenant advisory group at Cushman & Wakefield Philippines.
In its Flexible Workspace Report 2021: Flex in the Time of COVID-19, Cushman & Wakefield Philippines underscored the important role of flexible developments.
The future of the workplace has become a hybrid of sorts. There are employees working in their respective office corners and there are those working from home.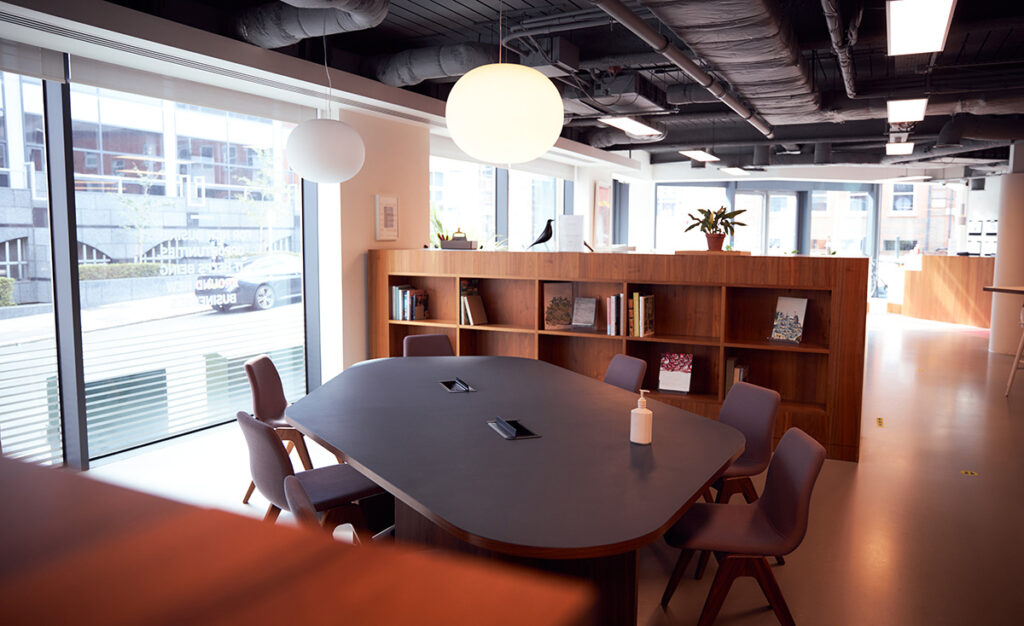 Productivity
"Despite the presence of the hybrid workspaces, workplace productivity remains an utmost priority. Since affording a dedicated home office remains a challenge, the availability of flexible workspace developments provides a viable alternative," Cushman & Wakefield said.
"As the situation gets better, people are likely to crave for more conducive work environments, and flexible workspaces are a wise choice during times like this," it added.
Resilient solutions
Flexible workspace operators are optimistic that this type of workspace will be a good alternative to traditional offices as the economy further reopens, precisely for the flexibility that they offer.
Claro Cordero Jr., director and head of Research, Consulting & Advisory Services at Cushman & Wakefield Philippines, emphasizes that what adds to the resiliency of the flexible workspace sector is its ability to drive the business continuity plans of most organizations.
"The availability of flexible workspace allows for contingency in the event of localized lockdowns or construction delays, minimizing disruptions in business operations," Cordero said.
"In cases where work-from-home may not be effective or viable, corporates can take advantage of the diverse locations being offered by flexible workspace operators to ensure ready-equipped business suites, private offices or hot desks that can be rented out according to the needs and demands of the organization," he added.
Occupancy yet to recover
The flexible workspace sector was not spared from the impact of the pandemic. Cushman & Wakefield said that many operators have reported a major decrease in occupancy in 2020 brought about by the non-renewal of short-term clients, as well as softened demand from new clients.
"With the imposition of the strict health protocols in the first quarter of 2020, occupancy rate occupancy rates bottomed out to as low as 30 percent," Cushman & Wakefield said.
This is a sharp contrast to the 90 percent occupancy at the end of 2019.
"The situation is worse when looking at individual members who, from the onset of the pandemic, started choosing to stay safely at home, and would likely continue doing so until the threat is over," the property services firm said.
In addition, some flexible workspace operators are also reporting the impact of the exit of several Philippine Offshore Gaming Operators (POGOs) due to the additional regulatory requirements set by the government.
"Some of these POGOs and their associated service providers have been closing down and pre-terminating their leases—some of which are located in flexible workspace developments,"Cushman & Wakefield said.
However, with the easing of quarantine measures, and as more companies endeavor to return to the office albeit at limited capacity, Cushman & Wakefield said that flexible workspace operators observed marked improvement in occupancy levels, although still below pre-pandemic era.
Special services
Operators have stepped up their game by offering unique solutions to address the current situation.
An example of these special services is managing home offices while giving access to facilities as needed.
Cushman & Wakefield also cited a partnership between KMC Solutions and SWAT Mobility, which offers shuttle services to employees and flexible workspace clients.
"Post-pandemic, SWAT Mobility is expected to partner with more corporate clients in order to ease the transportation woes of employees brought about by the notorious Metro Manila traffic and troubled public transportation systems," Cushman and Wakefield said.
In all, flexible workspace operators are more relevant now because the flexibility they offer is what tenants need right now as compared to committing long term in traditional office spaces, Cushman & Wakefield said.
"The future of work will shift to a total workplace ecosystem with employees working from different locations each day of the week," Cordero said.
---
---
Looking into the future, large firms will seek to open secondary offices in multiple locations across the city and in suburban regions to cater to this new way of working.
"Flexible workspace operators are seen to open new locations in these areas to serve the demand from smaller firms who do not have the resources to open their own secondary offices," Cordero added.
As we continue to live in ever-changing times, new requirements and preferences will certainly rise from office tenants. With its resilient and flexible offerings, the flexible workspaces sector is seen to stay as it goes with the flow and adapts to current needs of various businesses.
---
Article and Photo originally posted by Property Report Ph last June 11, 2021 and written by Catherine Talavera.