Inside a 230 sqm condo unit fronting Manila Bay, every sunset is made more glorious by wide windows and glass curtain walls, and the feel of contemporary luxury that takes cues from the Modern Era.
Bent laminated wood is used for the center table and dining table. Real marble for tops and natural wood for most furniture pieces. Accent furnishings are in metal, tinted glass and bronze. In honor of the Modern Era, a vignette of a gold half-moon lamp stands beside a yellow vase and a glass ball in blue.
The lighting fixtures show a cosmic concept accentuating the rooms. A pair of half moon pendants brighten the dining area while molecule-inspired drop lights hover the living space. In another nook is an eclipse table lamp and in the bathroom, another smaller molecular drop.
---
---
The man behind this "interior work of art" is luxury home stager and design consultant Mike Salvador, who shares to Property Report PH some tips on designing and transforming one's home this 2021.
Make a wish list
When Salvador begins a home transformation, he often asks clients to make a wish list for the house. You, the homeowner should own your style for your space. Check the web for inspirations and different perspectives and deliberate with your interior designer and architect.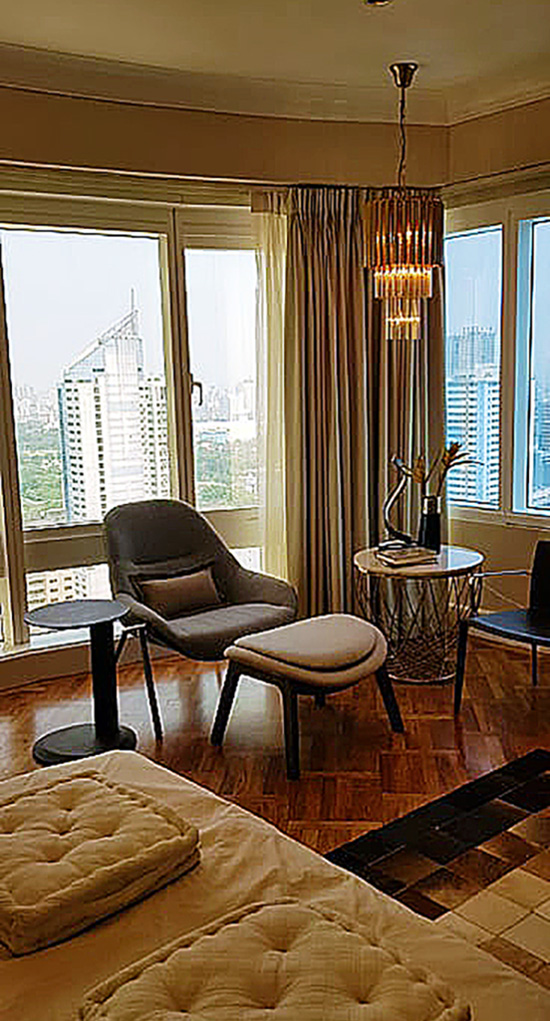 "I respect architecture a lot. It's like I could decipher why the architect laid the walls in certain directions. In points where I could imagine another concept, re-molding a space should be deliberated on with the client," he says.
He sketches images of the space to "enhance its architectural bones or create one when there is virtually none." When everything's ready, he then proceeds to sourcing furniture, accessories and other finishing materials.
What's in a luxurious home?
Although known for designing luxury-themed spaces, Salvador explains that comfort is luxury.
"Clarity and having enough space or allowance for movement is luxury. Designs and details in a luxe style are considered successful if they are comfortable to all the senses, not just to the eyes," he says, adding that even a 20-sqm studio unit can look luxurious.
To temper a grand interior, he suggests applying earthy essence.
"Natural materials like slabs of many sorts or stones are both opulent and grounded in feel. This is the same with wood in matte sheen, handcrafted ceramics, and forged metals."
Ambience should also be adjustable, so a room could have both a cool white source of light and a warmer source of light.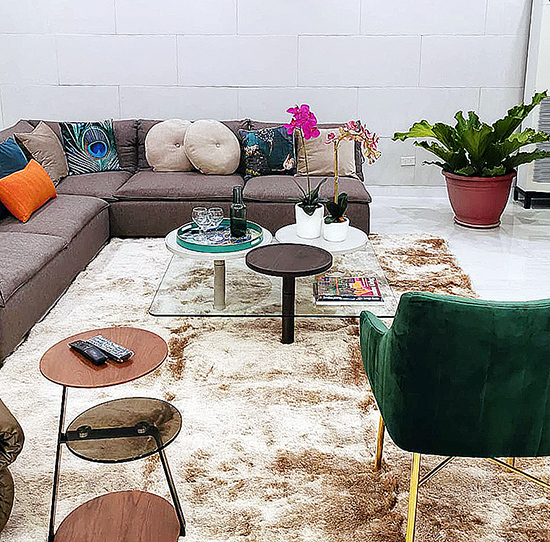 Make it feel like a living space
There are times when your bedroom looks pretty—but lifeless. Plants, small trees and certain types of flowers create a homely space, says Salvador.
Notice that many condo units are starting to have floor-to-ceiling windows. The wider, the better; and a few panels must be open for ventilation, he adds.
"Letting the sunlight in has so many benefits, health and aesthetic. Light creates shades and shadows, which are essential in an interior visual imagery."
The most important factor that makes one's home truly homely is an accent piece that is intimately connected to you as the homeowner. "A photograph is a quick reference, but you could look into a lot, like a trophy, a family heirloom, or simply a color that resonates your personality," Salvador explains.
The desirables during a pandemic
If you're still planning to get a condo unit, choose one with a balcony. "It's an airy 'breathing' spot that can accommodate a living or dining room extension. Or create a mini garden of herbs, florals and foliage which help purify the air—so bring them indoors, too," the consultant suggests.
If you have the space, especially in a horizontal residence, fancy a powder room at the foyer. It will instantly lift the aura of a home, while you and your guest can sanitize or prep before stepping further into the home.
---
---
Similarly, a mud room at the service entrance is advantageous. "In this space, one may clean up oneself or sanitize items before bringing them into the house. Utilitarian tasks are also accommodated here."
Many may continue working or studying at home even in the next years, so have a room dedicated to it. An aspirational home office is great for Zoom conferences and classes, and should not expose many parts of the home to enable you to keep your privacy.
The DIY interior design trend is exciting, but if you don't have the luxury of time but want a luxurious home, there are professionals who can transform your home to the best that it can be.
#realestateblogph | #realestateblogphsundayfeature | #REBPH | #realestate | #home | #hometransformation
---
Article and Photo originally posted by Property Report Ph last January 29, 2021 and written by May Dedicatoria.
About Post Author